seaside Marine Debris challenge
Goal: $250, Stretch: $500
Seaside Marine Debris Challenge: You can support it either with a cash donation (above) or by submitting an idea to address the problem of marine debris. And please share with friends and family!
A panel of 3 judges will review the final submissions and the person or team they choose will receive a prize of either $250 or $500.
FAQ
How do I support your project?
---
Be an Ocean Hero!!! Donate: Scroll up to the top and click on "I want to help" Submit an Idea to the Challenge: via this email Spread the Word: share this link with friends and family: www.sparkus.org/seaside Volunteer with us! Get in touch here.
---
Is my donation tax deducible?
---
Seaside Sustainability is a tax dedictible, 501c3 organization. You will receive a donation receipt that you can give to your accountant when calculating tax deductions.
---
What & who is Seaside Sustainability?
---
Seaside Sustainability is a non-profit organization based in Gloucester, MA that is dedicated to ocean sustainability and education through action. We function at the local, state, and national level, and aim to involve community members and students in project-based learning. Our initiatives include the adoption of modern ocean-cleaning technologies, advocating for single-use plastics bans, invasive species mitigation, and curriculum development which includes our award-winning Green Scholars program. We will also be launching National STEM Honor Society in the fall of 2019. Seaside Sustainability thrives on its passionate team of volunteers and interns across the globe, and is dedicated to increasing sustainable mindsets and behaviors while lessening our impact on the planet. Check out our video here.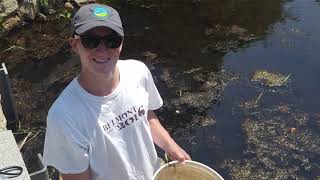 ---
What problem is this Sparkus Project tackling? What's this solution?
---
Fundamental Problem: There is SO MUCH marine debirs (trash) in our oceans and it's killing our costal ecosystems. Process Problem: We need more people thinking about creative solutions. Solution: Seaside Marine Debris Challenge Incentivize creative thinking and problem solving around the issue of marine debris through a challenge that is easy and fun, with a chance at a cash reward (and the feeling of having contributed to the Fundamental Problem).
---
What's your "theory of change?"
---
We believe that the more people are aware of the problem, are spreading awareness and devoting time and energy to finding a solution, the more likely we are to actually save our marine ecosystems.
---
---
This is where we will post updates:)​